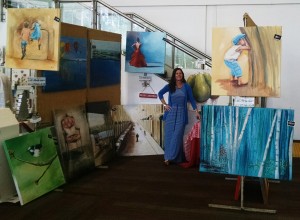 My name is Kylie van Tol and after many years of Graphic Design I have moved in career direction to being more hands on and becoming an artist!
After living and working in Sydney and the Central Coast for over 15 years and working in Graphic Design I started painting works after my second son was born. It wasn't until moving back to Wagga Wagga (as I was originally from Lockhart) and when my youngest son started pre-school that I was hooked on painting again.
I am a member of the Wagga Wagga Art Society and enjoy painting in the Art Studio of the Wagga Wagga Art Society. I have been loving my new found career!
As you will see from the following pages all of my works are done in Acrylics on Canvas or Oils. I can work to any size and I have been painting seriously for the past 3 years. I studied art at school and was always able to draw and paint from a young age.
I do commissions and exhibit my works regularly within the riverina. I have works at "Jugiong wine gallery", "The Thirsty Crow Brewery" and "The Paper Pear Gallery" in Gurwood Street Wagga. I have won art prizes at Coolamon Up2date Exhibition, Bright Art Gallery and People's choice awards at Tumbarumba, Coolamon, The Art Prize Wagga and Wagga Art Society Exhibitions.
I am at the Art On The Levee Every second Saturday of each month and the "River and Wren markets" Every two months on a Sunday!